How to speed up your WebMuseum access

---
There are two general-purpose methods to speed up your WebMuseum access:
Ask your system administrator to install a local cache.
Local caches speed up dramatically the time needed to download a document, usually bringing them from a couple of seconds to a fraction of a second... They also usually save 40% on network bandwidth for your organization!

Get a better Web client!
Netscape dramatically reduces the time needed for Web navigation, and can also do on-disk caching.
Here's the usage curve for this summer, depending on the time:
Best hours: 2:00 to 11:00 MET DST (GMT+2)
Worst hours: 15:00 to 23:00 MET DST (GMT+2)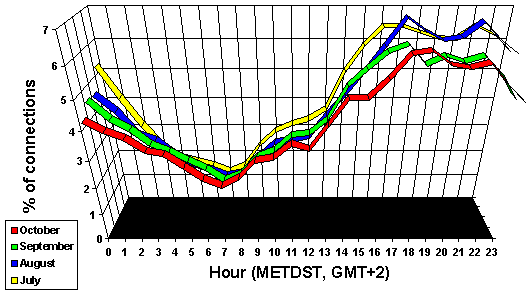 ---
© 11 Jun 1996, Nicolas Pioch - Top - Up - Info

Thanks to the BMW Foundation, the WebMuseum mirrors, partners and contributors for their support.