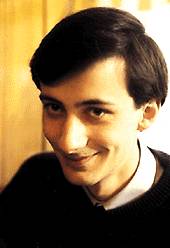 ---
Nicolas Pioch
(Photo: Manabu Matsunaga / Like A Pool)
---
École Polytechnique
École Nationale Supérieure des Télécommunications, Paris
---
Since September 1994
Consultant for major companies in Web-based projects

July 1995: Winner of the BMW Foundation/Fondation de France Initiatives 1995 contest.
---
Since September 1993
Consultant for companies and state administrations, in the following domains: Unix, TCP/IP, Computer Security and... multimedia!

I also do in-company teaching, usually on a weekly basis or for a couple of days, on various topics such as Unix administration or C++.

Computer Science teacher in Ecole Polytechnique:

since January 1994:
Systems and Networks course in the Fundamentals of Computer Science major
September 1993 - December 1994:
Algorithms and Programming course

studying Economics in ENST (Ecole Nationale Superieure des Telecommunications), Paris.

May 1994: Winner of the Best of Web'94 award for Best Use of Multiple Media.

---
September 1990 - August 1993
studying Sciences at the Ecole Polytechnique (France).
Graduated in July 1993

April 1993 - August 1993:
Spring internship in Microsoft Corporation (Redmond, near Seattle, WA), for the final stage of Windows NT. I was mainly interested by the NT kernel and the TCP/IP network implementation.
Memorandum: ``Network programming: From BSD Unix to Windows NT''.
---
My other interests include Latin and Ancient Greek, classical theatre, Mylène Farmer... and working on the Internet on my free time, late at night and on week-ends. Actually I didn't have much free time since last September!

The ``visible part'' of my iceberg on the Internet includes
this web server, mostly known for the WebMuseum stuff worldwide and the guignols sound samples among the French-speaking community
the IRCprimer, a 50 pages IRC manual.
Geographically speaking, I am a happy citizen of Paris since 1985, but I enjoy travelling around a lot. I have toured in many European countries (except Northern European countries unfortunately) and my last holidays were spent around Arizona, Nevada (Las Vegas!) and California during summer '93.

-----BEGIN PGP PUBLIC KEY BLOCK-----
Version: 2.3a

mQCNAi1bCLkAAAEEAMmCdy9dGI8oH5PUluP85S5uO0UoOuA1wJH7u+eTVVZPSyvu
/mPV5WYoWqz8Q7SgUEH0gmNAT+EGPKLwjmG5o091ur+1UUHonqZ2cPwsP8lCqKVX
wPAIef7EQSvHXtPQaM3JUr2hMiWtCXtWdXmmKJowBGPVAXq8ghDK0oieRXZtAAUR
tCVOaWNvbGFzIFBpb2NoIDxOaWNvbGFzLlBpb2NoQGVuc3QuZnI+iQCVAgUQLWKF
/hDK0oieRXZtAQHpcwP9HAqWBN4PtTf4JrCYhd9ioHL5WD8R1fi2PJiHPG5LVx7s
QLWUO7eX9DHnUt+mFWcYb0P1QMTFGh1m7FQWGXvVRwUEXn3pd5CT18+FSk26N2OJ
wRXggV2/Mf+ZT9n56UafxvTNvzABfnRZTORcgmN2lX47MXxWDtD1/eEhpREnW0U=
=DKuu
-----END PGP PUBLIC KEY BLOCK-----


---
© 11 Jun 1996, Nicolas Pioch - Top - Up - Info

Thanks to the BMW Foundation, the WebMuseum mirrors, partners and contributors for their support.